SCPC / MCPC VSAT
We offer SCPC / MCPC services on Different Satellites. Offering two-way dedicated bandwidth, SCPC / MCPC services provide the perfect solutions for businesses with different application, such as dedicated datachannels, backhaul connectivity, etc.

ASPL provides satellite-based, high quality, communications solutions to any countrywide locations. Based on proven technology, ASPL VSAT Solutions are robust, reliable, scalable, and rapidly deployed. They require low maintenance, and are the most cost effective solution for clients who need comprehensive communications for national dispersed sites.

ASPL SCPC / MCPC Dedicated VSAT service is tailored toward domestic carriers for Tier 2 and Tier 3 ISPs, government sectors, embassies, and enterprises within the retail, oil and gas, banking and construction industries.

ASPL SCPC / MCPC Dedicated VSAT Specifications
" Nationwide KU Band and C Band service to any location
" Scalable data rates
" Point-to-point full duplex circuits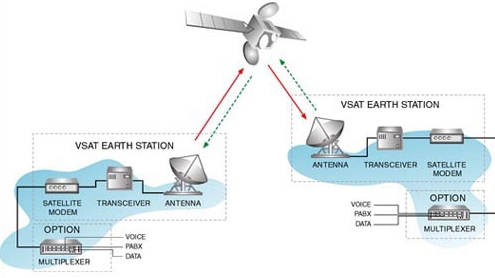 " Dedicated bandwidth
" Layer-1 transport, clear channel hand-off
" Supports clear channel, TCP/IP, Frame Relay, ATM, DVB, TDMA
application
Solutions
Depending on your communications requirements and the
complexity of your network, we have an array of topology solutions
that can be implemented. All solutions are based on a detailed
requirement analysis and design process, such that your needs
are met exactly.
Point-to-Point VSAT Connectivity
Private secures point-to-point VSAT solution that provides a
dedicated link and dedicated bandwidth between two locations.
Ideal for static environments, where communications requirements are clearly established - Supports voice, data, and video communications
Multi-Site Solution (Mesh Network)
A fully meshed network solution that allows all connected sites to communicate directly with each other, using a shared pool of bandwidth - optimizing performance and cost effectiveness. Ideally suited to regional distributed remote operations that need to communicate both locally and centrally but whose demand for network capacity fluctuates - Supports voice, data, video communications.
Multi-Point IP Based Network Solution
An IP based multi-point solution providing a partial mesh or star topology where each remote site can communicate with the others via the central hub (double hop). Like our mesh offering, bandwidth is shared between the remote sites providing a cost-effective solution. In addition IPoVSAT addresses and transmits the packets in an optimum manner providing a best-in-class quality of service. ASPL offers two services using this technology - IPerformer, which offers a private multi-site IP based network solution.